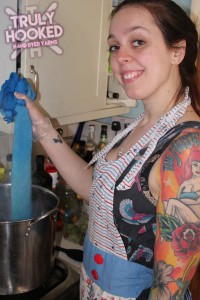 Hello! My name is Verity and three years ago i started Truly Hooked hand dyed yarns. Dedicated to creating beautiful yarns and fibres aswell as designing fabulous knitting and crochet pattens. All of this is done in our family home in Nottingham. Concieved and cultivated by myself, Truly Hooked has now grown into a full time operation resulting my husband Meyrick coming on board aswell as our children Alfie and Layla being roped into help. A truly independent family business.
I began my wooly journey as a crocheter but have since become a bit knit crazy. With socks being my current obsession, having just finished my 42nd pair of the year. Meyrick is very happy as he likes socks, but has not mastered the art of knitting his own yet.
2015 has been an incredible year for us at Truly Hooked.  We made the shortlist at the British Knitting awards for best independent yarn brand, we had some really tough competition and despite not winning we were amazed by everyones response. Its also been the year we launched our kits, the Beatrix kit has been a  huge success with a massive pre order and many of them now being spotted adorning peoples shoulders at shows across the UK.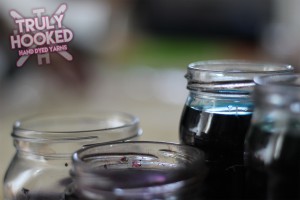 We're really excited about whats to come in the coming year, even more kits featuring all kinds of garments for all kinds of difficulties, some fantastic colourways and an ever increasing range of instocks, as well as some great shows that we'll be making apperances at giving you all a chance to squish yarns and talk to me in person!